We want to provide all our patients with a safe and enjoyable experience when they visit our clinic.
We want to provide all our patients with a safe and enjoyable experience when they visit our clinic.
New Dental Clinic helps you if you suffer from a strong fear of the dentist
Our Nova Dental Clinic team sincerely wants to help you if you are afraid of dental treatments. We put emphasis on our unique approach to each patient and creating a good relationship between our patients and staff. You are the ones who know how far your boundaries go and we are committed to good communication in order to take care of you as best as possible. We strive to help you take care of your own oral health and make even patients with a fear of the dentist feel relaxed at our clinic.
What can you do to best prepare for the visit?
If you are concerned, you can take a few small steps to improve your visit with us. Some find the sound of the machines we use very annoying, which is understandable, as they can create a bit of noise. Bring your own music headphones or earplugs to mute the sound. There are music systems in all of our offices and we are happy to change the music so you can listen to what relaxes you most. When you book an appointment, just let us know about your fear and we will take it into account during your visit. We have calm and experienced staff used to patients who are afraid of dentists. It helps some patients to take a trusted person with them, someone who is calm, and who can also join the scheduled appointment. We have extra chairs that companions can use. You as a patient can feel safe because we will focus on painless dentistry and provide good anesthesia.
What can we do for you who have a fear of the dentist?
Our qualified dental nurses and dentists have great respect and compassion for your fear. We try to make you as relaxed as possible and to make your visit less intimidating, so that you do not delay your appointment and your oral health does not deteriorate. People who are afraid of the dentist usually postpone the examination because they do not dare to come or simply cannot tolerate the intervention in the mouth. It is very important that you go for an examination, even if you think it is uncomfortable, in order to avoid worsening dental problems and higher costs. We want to help and we are here to help you overcome your dental problems. We have set aside enough time for you and you will be able to take a break from treatment if you wish. We highly respect the fact that some people have a fear of dentists.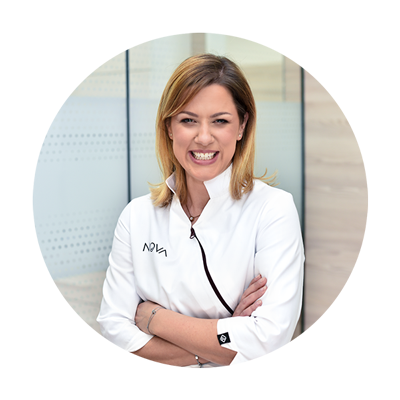 I have had many patients with a fear of dentists in my career and, in my experience, the most important thing is to explain what I do in detail, to allow the patient to take a break and to listen carefully to the patient's wishes and needs. It is important to me that everyone, both those who are afraid and those who are not, have a good experience of going to the dentist.
– Dr. Maja Karamehmedović, Nova Dental Clinic
Are you interested in something?
E-mail us at
info@

null

novadental.ba
. We will help you in the best way possible. Welcome to Nova Dental Clinic!