Nova Dental Clinic promotes oral health in a new way.
We wanted to create a modern oral health clinic focused on the dental experience that we wanted to make more accessible, affordable and cheaper. And of course – we offer high-quality treatments.
That is why we have created Nova Dental Clinic – a dental health service with variable working hours from Monday to Friday, digital and simple appointment booking and reasonable prices without hidden costs.
In addition, together with fantastic architects and many other collaborators, we have created a modern clinic where you can relax more and feel the pleasant warmth of the space.
We care for you
Our qualified dental nurses and dentists are dedicated and ready to provide superior treatment. The Nova Dental Clinic team understands the importance of clear communication with you as a patient and strives to provide high-quality guidelines and information as a part of a treatment. Our goal is for you to feel carefully listened to and adequately prepared to take care of your oral health on your own.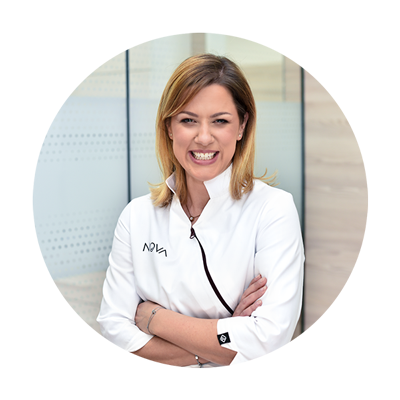 I wanted to create a special dental practice with services that I would like to use myself; where I could book an appointment when it suits me and where I would know how much the treatment would cost before I got to the cash register. With an extremely skilled and dedicated team, I am glad that I can finally provide the patients with a visit to the dentist as it should look like in 2021. I am in love with dentistry and my goal is for every patient to leave our clinic smiling and knowing that we take good care of their oral health.
– Dr. Maja Karamehmedović, Nova Dental Clinic
This is how we can help you
Nova Dental Clinic offers all general and specialist services in the field of dentistry. Read more about all our treatments here.
We know that many people are surprised at how much a dental treatment costs. At our clinic, in addition to all individual services with known prices, you can also choose service packages that give you additional discounts.
Nova Dental Clinic has contracts with insurance companies through which we provide you with easier and cheaper payment for our services. If you are entitled to a refund for dental treatment, we will always give you information about it.
At our clinic we want to provide our patients with a good and safe treatment through an individual approach, and make sure that each patient is completely satisfied.
– Vedad Karamehmedović, Managing Director of Nova Dental Clinic
Do you want to work at Nova Dental Clinic?
Are you a dental nurse or a dentist and want to know more about the possibilities at Nova Dental Clinic?
Visit our Career page!